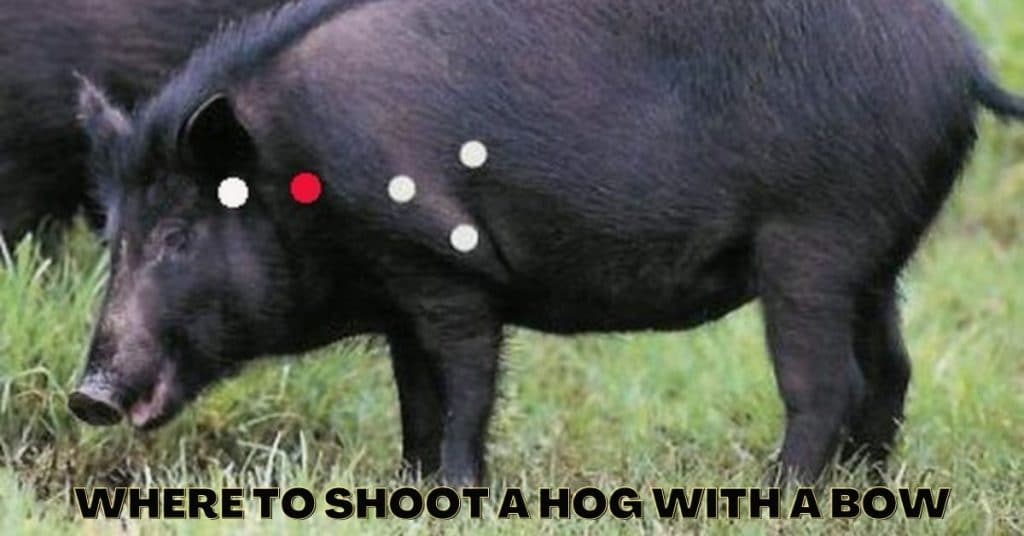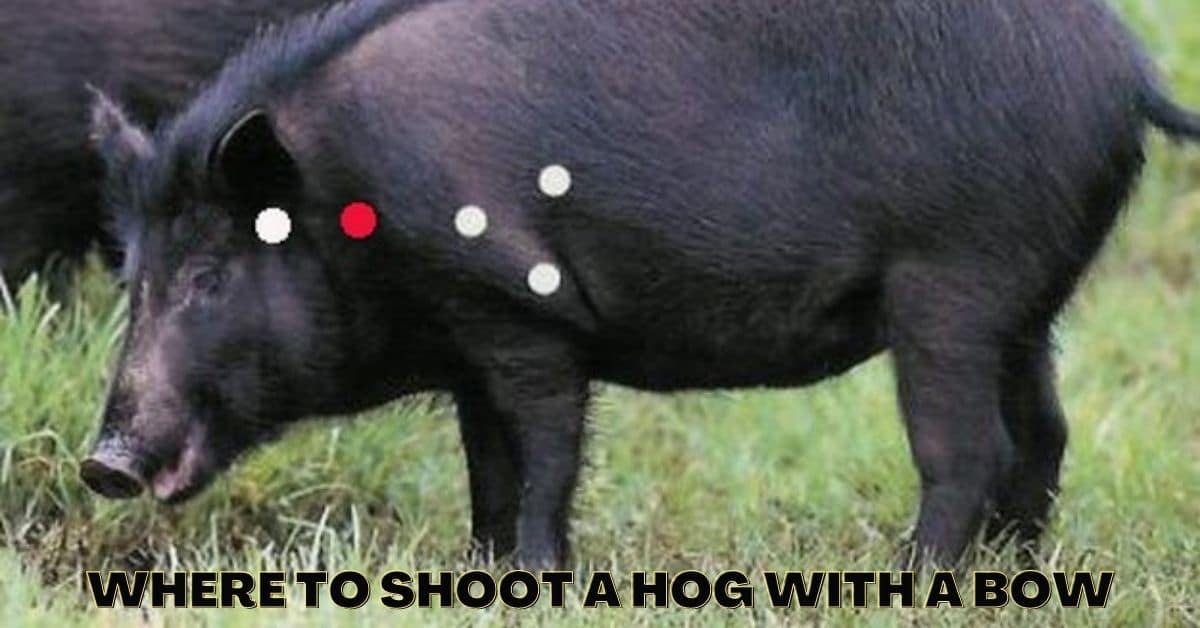 Over time, the sport of archery is increasing day by day. It is a fun sport, but it is highly used for hunting wild animals, especially hogs. The biggest problem while shooting the hogs in the daytime is that they appear relatively dark, challenging to shoot. But, don't worry because we'll tell you where to shoot a hog with a bow in a proper manner.
Most hunters' problem is that there's no mark on a hog's body. There's no natural identified crease like a deer. However, a high-quality bow, practice, and some perfect arrows can greatly favor you.
Shooting a hog is not an easy task, but we'll tell you about some tips and tricks that will help you in a great way.
So, let's move to the depth of this article!
Shot replacement:
Most of the hunters face this major issue that where to shoot a hog with a bow.  Before moving out to the tips and the details, let's have a look at the image below:
As you can see, the location of all the major organs of a hog.
Replacement no#1 – (Heart Shot):
You can see that if you want to kill the hog immediately, you need to shoot it right behind the front leg because its heart is located. And what else can be the best way to kill a hog instead of shooting right on the place where the heart is located?
However, if you still find the problem and cannot shot properly, aim at the armpit of the hog and shoot. The skin of a hog is 3 inches thick, but you can probably reach the heart easily if you have a perfect broadhead.
Replacement no#2 – (Lung Shot):
After heart, a hunter can also aim and shot into the lungs of a hog to kill it immediately. However, shooting in a lung of a hog is pretty easy than shooting in the heart, but it is not as effective as the heart shot.
Apart from this, if you are a professional hunter, then shooting a hog in lungs is not a big deal.
It's better for you if you hit the hog during the nighttime with a recurve bow because at that time, the respiratory system is still on edge, and it gives a margin to you.
As you can see in the image above, the lungs are located in the middle of the chest, and shooting is quite easy for a deer hunter. If you are using a crossbow, then wait for the side position of the hog and then shoot.
Moreover, large hogs are fat and have 2x thicker skin, so for that purpose, a perfect broadhead would work incredibly.
Shooting techniques for a better hunt:
Let's have a look at the three hunting situations to make it easy for you!
Remember to hunt while hiding and keep yourself away from the prey and move very slowly.
Come along with hounding dogs and get closer very slowly to the hog and doo stop between to listen to the sound of the footsteps of the hog.
When you are hunting in groups, along with a group of dogs, then if you are moving faster, do not move in a straight line.
Pick up the right archery tool:
Choosing the right archery tool is an essential point during hog/animal hunting. Every arrowhead works well, but the broadheads are always the best for hog hunting because they have hard and thick skin, and nothing can work better than a broadhead.
Broadheads come in categories. For example, you can choose between a two-blade broadhead and a three-blade broadhead, depending upon the situation.
If you face a giant hog with almost 125lbs, you should go for a three-blade broadhead so that it can cut into the thick skin of the hog easily. It will damage the major organs, and it results in a super-fast and clean hog kill.
However, if you come across a small or normal-sized hog up to 65lbs, it's better to use two-blade broadheads. A 65lbs hog has skin that is 3 inches, and a broadhead with two blades can easily cut into it and damage the organs to a great extent.
Approaching a hog:
Shooting a hog from a distance of 20yards is mainly preferred by the hunters for a perfect shot. The distance of 20yards is considered the perfect one because it enables you to take an ideal shot and keeps you away from a hog's eye.
Otherwise, it will be pretty tricky to take a shot from far away because it doesn't allow you to take a perfect shot. Moreover, a good camouflage can play a vital role in protecting you. It would be better if you consider hiding with bushes or tree leaves.
There is a point to remember that the hogs have the most efficient sense of smell, their sense of vision is not that effective, but they can recognize that someone is preying on them just because of his sense of smell.
Try to move slowly towards a hog so that it cannot feel your presence and when you reach the perfect distance, then shot and kill!
Frequently Asked Questions:
1. What is the perfect time to find a hog?
Ans: Well, it's easy to find and hunt the hogs in in at early morning or evening time. The reason is that during these times, hogs are wandering around looking for food. However, finding and shooting a hog at night is relatively more straightforward than preying at them in the morning.
2. Where should we find the hog?
Ans: If there is a dense forest, then look under the shades of trees and follow the hogs' footprints. You can also find them along the river banks, hardwoods, and bottomlands.
Apart from this, if you are not willing to find or follow a hog, you can make him find you by offering him a trap of corn because it's his favorite food.
3. How can we preserve hog meat?
Ans: You can keep it preserve by using apple cider vinegar, sea salt, or arrange juice. You can use two galling of either orange juice or apple cider vinegar or a large amount of salt to preserve the meat.
Conclusion:
Hunting a hog with a bow is an exciting yet tricky thing. But, if you know the tips, you can get a hog killed in a minimum time with no extra effort.
We hope now you know much about how to and where to shot a hog with a bow. However, do it carefully and keep yourself safe.
In case of any queries and suggestions, comment below!
Happy hunting!